Why are men obsessed? And what is meant by the male gaze? I'll try to explain, I've given it some thought. I found a few examples from literary texts, the theatre and film. By now, you know that women, feminists in particular, have responded to this male gaze. Since the concept of feminism was first discussed, there have been many responses to how or why men stare at women. Or place them on a pedestal for their own delight. I have cited just two examples which resonated for me; Eve Ensler and Glenn Close. Most of you know Glenn Close who I last saw in the television series, Damages, in which she plays the cut-throat lawyer Patti Hewes who takes male corporate giants down for their corrupt misdeeds. Then there is Eve Ensler who revolutionised (women's) theatre with her interactive and provocative ream of The Vagina Monologues.
Because he is such a giant in theatre, I also sourced the works of Athol Fugard. I just knew I was going to find something amongst his plays which shows solidarity towards women, rather than subject them to the eyes of men.
Since the advent of Greek philosophy, the male has been dominant in shaping what society think of themselves as human beings and particularly how the feminine half of society is perceived. Speaking as an African for a moment, I may add that perceptions of the female are not confined to Western philosophy. Patriarchy remains dominant and still influences our thought and perceptions.
But many here prefer to continue blaming Western philosophical thought for the way we continue to perceive notions of womanhood. Even feminists, according to Abrams, continue to rely on male-centred thought to define themselves. Three important concepts which influence feminist thought, namely the patriarchal nature of Western society, the construction of gender and the dominance of patriarchy over the literary canon which stretches across over two hundred years.
Most of what Abrams says is true, but significant strides have been made in countering the so-called male gaze. In contrast to the difficulty that American feminists experienced in creating an alternative, numerous contributions have been made by a few female theorists. In the written introduction to her innovative and ground-breaking play, The Vagina Monologues, Eve Ensler shares her own personal experiences with her audience and readers. She explains what motivated her to begin a process of devising an original theatrical concept which responds in your face to male dominance and the subsequent abuse that it carries with it. She tells us that she is a unique individual, independent and uninhibited. While she likes strutting about in the nude, she points out that she was abused sexually by her father.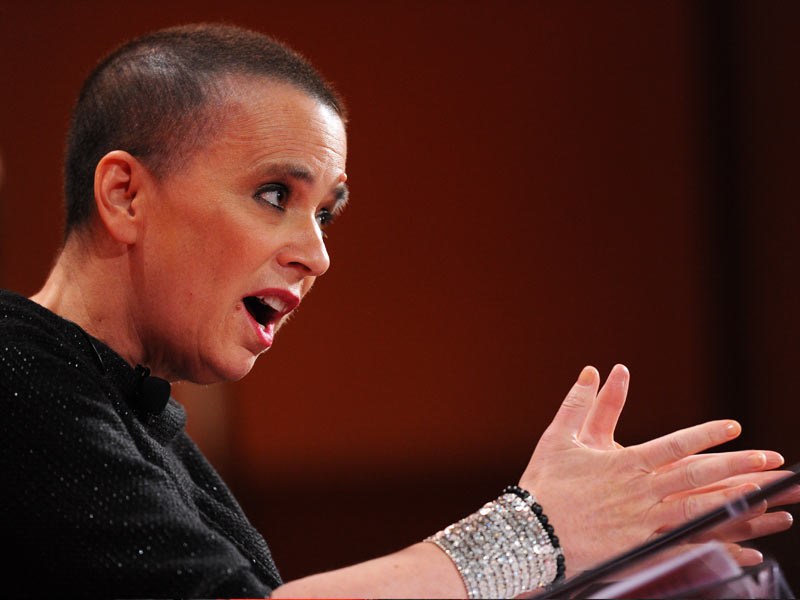 Eve Ensler's crusade in the name of freedom for women led her to a global journey which included interviews with many women with different views of their experiences and an acute observance of societies and how they perceive women. Reading the introduction to her play, we learn that Ensler has been successful. She shares the positive responses she received from her (mostly) female audiences;
"The play had somehow freed up their (repressed) memories, pain and desire. Night after night I heard the same stories – women being raped as teenagers, in college, as little girls, as elderly women who had finally escaped being beaten to death by their husbands…"
When I was still doing a course in Advanced Theory of Drama, the modulator for this course simply vanished. No reasons were given for her disappearance. Anyway, she left us with some of her own thoughts on the male gaze. She believed that the male gaze can best be described by studying the way in which "traditional love narratives" are created. She pointed out that the female is "never the subject, but the object." I disagree. The female does emerge as subject (and the male as desired, sexual object) in which she also rises to become the narrative plot's heroine.
We know that men do look actively at their passive female subjects. Such habits cannot be overturned overnight. It is part of our human nature which has evolved rather slowly since the dawn of humankind (not mankind) when men were the hunter-gatherers while their opposites were nurturers based solely at home. But, Ensler does not attempt to overturn such fallacies for better or worse. Rather, she offers support and solidarity towards those women who struggle to adapt and cope in a society dominated by men. She focuses on how women perceive themselves and encourages them not to be influenced by what male-centred society thinks about them.
There have been a number of feminist theatre critics who have understandably disagreed with Ensler's work, but I believe that she has ultimately succeeded in her mission to empower women. Indeed, our erstwhile lecturer pointed out to us that Ensler's play "is in accordance with international feminism which seeks to find common ground between women of different backgrounds." And, the use of different accents in The Vagina Monologues is, to my mind, effective, because it presents the audience with a realistic and always creative interpretation of women's experiences.
Culturally speaking, women are, of course, still drawn towards social conventions such as the wearing of make-up, but I believe that this has more to do with how the naturally passive woman wishes to see herself and how she feels about herself as a woman.
One feminist critic, Macdonald, gave a critical definition of the male gaze when thinking of the way women have been conventionally portrayed in both theatre and film;
"The male gaze persists in theatre, for the art form continues to favour male experience and, more often than not, depicts women in relation to men – either as objects of desire or as dependent on male interaction for self-revelation."
Sad to say, but this is true. Two well-known American actresses come to mind here. Sharon Stone defines herself as an independent, opinionated woman, but, unlike Glenn Close, seems unable to emancipate herself from the prying eyes of men. Stone is better known for her role as the flawed, sexually deviant novelist in Basic Instinct, while Glenn Close played a psychologically damaged woman in Fatal Attraction. Interestingly, both movies starred American actor, Michael Douglas, who was defined as an extreme example of the alpha male. But, after his critically acclaimed performance as Liberace in Behind the Candelabra, Douglas has now made a positive contribution to overturning conventional perceptions.
Glenn Close is recognised for contributions towards female emancipation. Ensler mentions her part in "Vagina Occurances" where Close famously encourages 2,500 people to stand and chant the word 'cunt'. Close is also remembered in her acting role in the screen adaptation of Simone Benmussa's play The Singular Life of Albert Nobbs. In this part, Close transforms her female personage into an androgynous character to foreground the problem of achieving gainful employment in a patriarchal society.
And, Glenn Close's leading role in Serving in Silence: The Margarethe Cammermeyer Story is significant because this television drama is based on the true story of Colonel Cammermeyer's quest for justice after the US army discharges her from serving because of her honesty in declaring (not acknowledging) that she was lesbian.
In South African theatre, Athol Fugard challenges Macdonald's staunch criticism of the male gaze. Although such works are still in the minority, Fugard overturns the abusive and exploitative tendencies of the male towards his female "other" in his Port Elizabeth Plays. In Boesman and Lena, the female protagonist must overcome, and does overcome the abuse she suffers at the hand of her equally-impoverished male partner. In Hello and Goodbye Hester Smit's flawed character, sexually promiscuous and working as a prostitute, does not prevent her from overcoming the neglect she suffers at the hand of both her father and brother.
It appears that men will continue to ogle women for some time to come. But, so too, women will continue to rise to their rightful place as equals among men. Power to you, woman.